Tyrannosaur Inside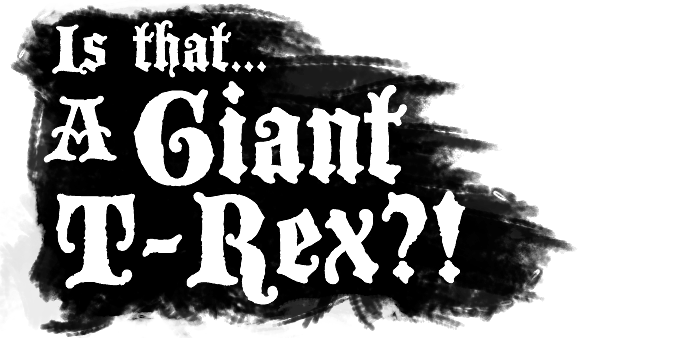 Now, no one expected a vast Tyrannosaurus Rex to appear in the middle of the village.
Nor did they expect you, you of all creatures, to try to slay the terrible beast.
But here we are.

The T-Rex is monumentally huge.
Unrealistically so.
It's so big that your only hope, if you wish to defeat it, is to fight the monster from the inside.

Tyrannosaur Inside is a role-play adventure, in an A5 sized full colour printed booklet. It contains fully illustrated, lovingly laid out pages that set a madcap adventure inside a unthinkable Cretaceous monster.
The game is designed for a GM to run with minimal preparation, for a group of pretty much any size. (We've played it solo and that was pretty fun too).
There will be two versions, with guidance and stat blocks for playing in two common RPG systems:
the ubiquitous D&D 5th Edition
the incomparably horrible MÖRK BORG.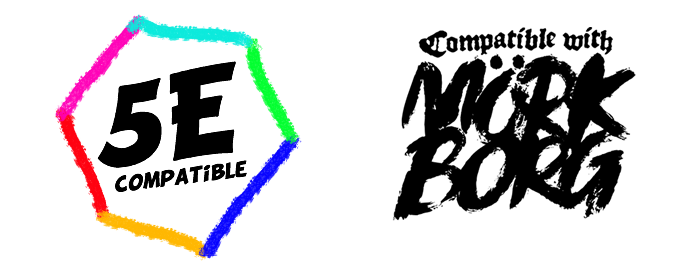 (This is 100% unofficial and non-endorsed, legally licensed through the Open Gaming License SRD and the MB Third Party License, respectively)

The Adventure Setting - easily set in any town or village in your pre-existing game worlds.
Safety guide & Trigger warnings.
A hex-crawl map... you could even call it... a "T-Rex Crawl"? (I'll get my coat).
Accessibility notes (more on that below).
Lots of interesting tables to roll on, such as "Why is there a giant T-Rex in the middle of the village?" and "Six Reasons Why You Are Scared Of Dinosaurs".
Enough Jurassic Park references to make you feel slightly uncomfortable (obviously).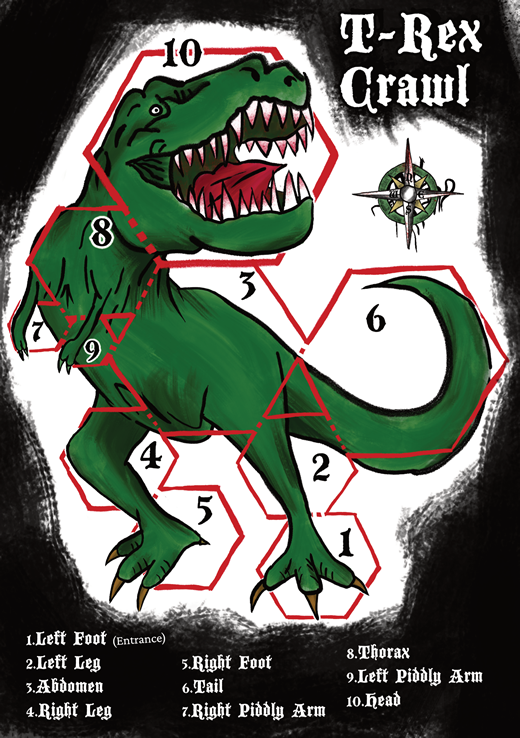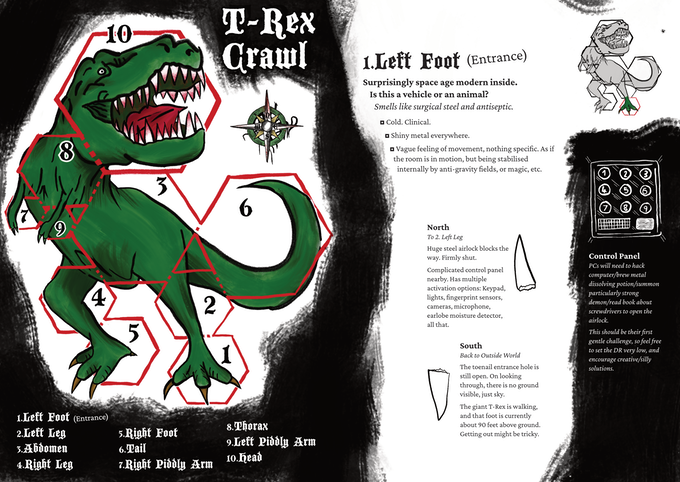 I am CM Lowry, also known as Chris (he/him). I'm a extrovert writer-designer-illustrator-doctor-idiot. The sort of person that talks to strangers on trains and ends up lifelong friends. Or glared at. Mostly glared at.

Tyrannosaur Inside is my third published RPG - check my other games at cmlowryauthor.itch.io - and my first to get physically printed. I also released The Die Decides earlier this year, a successful Kickstarter about rolling dice to generate story prompts, and writing 34 pint-sized stories with individual illustrations.

With additional contributions from:

Gareth Hanrahan's three-month break from computer programming to concentrate on writing has now lasted fifteen years and counting. He's written more gaming books than he can readily recall, by virtue of the alchemical transmutation of tea and guilt into words. Follow Gareth (he/him) on Twitter at @mytholder or at garhanrahan.com.

Grant (he/him) writes RPGs that you've probably heard of: Honey Heist, Spire, Heart, ORC BORG (Currently Funding NOW!) He is one third of RPG Makers, Rowan, Rook and Decard., and makes toy soldiers in his spare time. Visit his Patreon at http://patreon.com/gshowitt.

Roz (She/her) is a queer game maker and editor and one half of Two Rats Press. She has worked with Matthew K., Joel Hines and Melsonian Arts Council. She also ran her own successful Kickstarter last zinequest for the Goblin Manor of Anstruther Mogg. She taught Chris that the plural of T-Rex is T-Rexes.

Dave (he/him) is a punk who enjoys creating music and cut & paste zines at Visions Press. He is a lover of his neuro-diverse family, follower of Jesus and believes in local community. His creative work is influenced by the hardcore punk DIY ethos, emphasises collaboration and seeks to reveal beauty in unexpected places. He likes Jurassic Park a little too much and helps run Beyond Cataclysm.


The project will be published by Beyond Cataclysm, who are a micro-publisher, printing lovely things with lovely people, and soon opening an RPG & Zine distro.
Find out more about them at BeyondCataclysm.co.uk.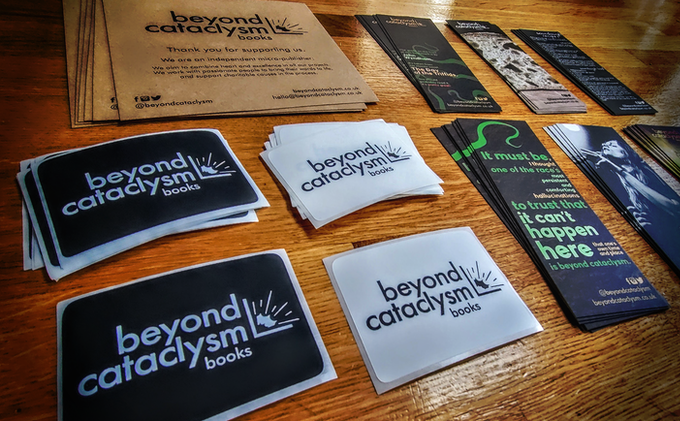 Yes we did! Trex Crawl is an intentionally, explicitly, disability-aware adventure.
The interior of the massive beast is absolutely equipped with wheelchair ramps, whilst all signs have braille and audio descriptive options. Alert sirens have visual components and any T-Rexs that communicate are able to do so through tactile and visual sign language.
All passages, no matter how narrow-sounding, are wheelchair accessible. Some of them may actually be more accessible to the disabled than to the abled.

Jacob Wood, from the eminent Accessible Gaming Quarterly (Year 3 fully funded!) is our amazing Accessibility Consultant. He wrote Psi-punk, Monster Kart Mayhem, Accessible Guide to RPG Layout, and contributed to such books as Baby Bestiary, Infestation, and the Pip System Corebook. Visit his website at accessiblegames.biz.
Exclusive content
Get exclusive access to this game by purchasing while quantities last.
Digital Copy
A Digital PDF plus Screen-Reader Friendly version of the zine in both D&D 5E and MÖRK BORG versions.
Physical Copy
The full colour printed version of the zine! Also includes the digital copies for your digital analog pleasure...

Choose D&D 5E or MÖRK BORG after the campaign ends. Pay extra $9 if you want a copy of each.
Postage will be collected after the campaign.
Luxury Package
Get all the joys of the Physical Reward, plus...
- 2 T-Rex bookmarks that double as monster stat cards in D&D + MÖRK BORG!
- 2 pin badges with T-Rexes on them!
- A bonus Tyrannosaur micro-story postcard!

Choose D&D 5E or MÖRK BORG after the campaign ends. Add $9 if you want a copy of each.
Postage will be collected after the campaign.
INCLUDES

Digital copies
Physical zine
Double T-Rex Bookmarks
T-Rex Pin Badges
Bonus T-Rex Microfiction Postcard
Physical + The Die Decides
Get all the Physical and Digital Rewards for this project AND my recent project The Die Decides, a fun bundle of microfiction in 33 chunks, with beautiful illustrations in a lovely full colour hardback!
Plus badges and bookmarks, and a digital, screen-reader friendly version, of course.
Choose D&D 5E or MÖRK BORG after the campaign ends. Add-on available if you want a copy of each. Postage will be collected after the campaign.
INCLUDES
Digital copies
Physical zine
The Die Decides physical book
Die Decides badge
Beyond Cataclysm bookmark
Super Luxury Package
Literally everything. All the stuff. Physical, Digital, a copy of The Die Decides, oodles of badges, bookmarks, a d10 for rolling your own microfiction prompts, postcards, and a piece of paper with my grinning face on it.

Choose D&D 5E or MÖRK BORG after the campaign ends or add $9 for a copy of each
Postage will be collected after the campaign.
INCLUDES

Digital copies
Physical zine
The Die Decides physical book
Double T-Rex Bookmarks
Beyond Cataclysm bookmark
Bonus T-Rex Microfiction Postcard
T-Rex Pin Badges
Die Decides badge
My odd-looking face on a piece of paper
Super Supporter
Everything in Super Luxury, both physical zines and the warm glow of knowing you helped make my dream of quitting the day job a reality. Free postage too!
INCLUDES
Digital copies
Physical zine
The Die Decides physical book
Double T-Rex Bookmarks
Beyond Cataclysm bookmark
Bonus T-Rex Microfiction Postcard
T-Rex Pin Badges
Die Decides badge
My odd-looking face on a piece of paper
Warm glow
You will get access to the following files when they are released:
projectimagetyrannosaurfinal.png